Our Publications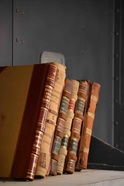 The MCHC has published a number of pamphlets, booklets, and books on a number of topics and subjects relating to the unique history of Montague County. Many of these publications are available for purchase at the Old Jail in Montague, as well as through the Tales 'N' Trails Museum in Nocona.
Several out-of-print books and DVDs are in the process of being republished and we hope to have them all available for purchase through this website as soon as possible. All new publications will be available through Amazon.com and the CreateSpace eStore. For more information, please contact Max Brown at
mbrown99@aol.com
or Gale Cochran-Smith at
galecsmith@gmail.com
---
---
Various Subjects on DVD
(Click here to Order)


100 Years in
Montague County Texas
Published 1976 by MCHC
$20.00 Softcover
110 pages


Old Jail
Published 2009 by MCHC
$9.00 Softcover
17 pages


Levi Perryman,
Pioneer Indian Fighter
Published 1987 by MCHC
$7.00 Softcover
35 pages

This Soil Will Grow Grapes
Published 2003
by Melvin E. Fenoglio
$20.00 Hardcover
272 pages


Our Yesterdays
Published 2001
by Melvin E. Fenoglio
$15.00 Hardcover
256 pages


A Description of Bowie
Published 1883, Rev 1958
$4.00 Softcover
16 pages


Montague County
Pictures of the Past
Published 2007 by MCHC
$25.00 Hardcover
144 pages


Save on Our Gift Packages - Just in time for Christmas!

---